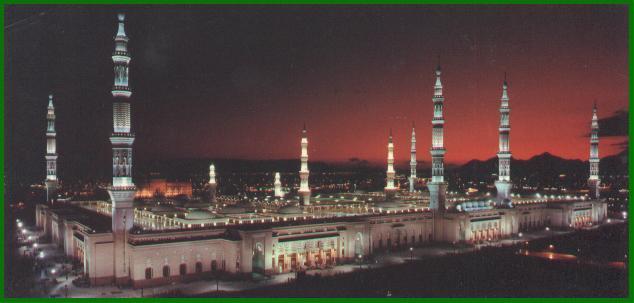 In The Name Of Allah, The Beneficent, The Merciful
We Praise Allah and Send Blessings to the Noble Messenger
Request
It is my good fortune to have been entrusted with the publication of Ita`at-Ur-Rasul. With thanks to Hazrat Maulana Yusuf Motala's trustful soul, that an unworthy person like myself is even writing these few lines.
Glancing through the manuscript, I cannot but praise the hard work the translator has put in. All readers of Asian origin know that Urdu, Arabic and Persian languages are written from the opposite direction in contrast to English. Composition of coinciding words and phrases from these languages to English with precise meaning is like asking a British driver to drive on French roads. Our learned translator has done precisely that with the skill of a rally driver.
British born readers may find the book quite rich and definitive, quite contrary to any literary work. But then Hazrat Motala was not delving into literary professionalism. His work is sermonical and interprets his own regards and feelings for Sunnah and gives an insight into his own heart. Here notice the contrast between the intense spiritual communion of Hazrat Motala with the Prophetic Way and simultaneous corruption in our society. We understand his righteous indignation and bitter grief. The people
have lost the bubbling faith of old and made the image of material world as primary object in their lives.
Notice how in each case only those points were referred to which are necessary in the argument at hand. A narrator whose object is mere narration tells the story in detail and is done with it. A consummate adherent whose object is to enforce lesson, brings out each point in its proper place, His object is not a story but a lesson. The instances, which have been related, should awaken the present and future generations that have inherited the Islam of the past. They should realise that if they fall into or defile the Sunnah, through their contumacy, they will meet with fate of "Jahanami'.'
It can never be possible for the likes of me to emphasise the reverend personality of Hazrat Motala. Opinion can be formed by individuals from the fact that after the sad demise of Shaikh-Al-Hadith Hazrat Maulana Mohammed Zakaria Kandhalvi, every one of us look upon Hazrat Motala as spiritual director and hold him in high esteem.
While reading this book, keep in mind the high station of Hazrat Motala's person and imagine that he is addressing a Majlis (gathering). My only request to readers who cannot read Urdu and had not the opportunity of reading Ita`at-e Rasul in Urdu, is that: Keep in mind the main theme of the book. Ponder over every example so that it may give some idea as to how the holy companions, followers and our ancestors moulded their lives in the way of the Holy Prophetís

Sunnah and the order of The Holy Quran. Which was not seconded by anything, even their own life did not matter when it came to making a choice.
May be the text will feel a bit dry and perhaps littered with English vocabulary we have not read before. While proving the mastery of translator it also gives religious student the opportunity of knowing the equivalent English for Arabic words we use in our every day ritualistic life.
I am sure the translator could have made the work more easy going and Hazrat Motala consented me to change the script as I may see fit, however after long and assiduous head banging I could not bring myself to alter it more than a word or two here and there or at the most one or two paragraphs. Reason being the guiding inspiration that 'BARKAT' generated by dedicated beings like Hazrat Motala cannot be re-innated by anyone else. Allah Most High bestows upon whom he chooses.
I can only suggest to the readers of the English version to go through this book as a text, lesson by lesson. Analyse every paragraph, precisely read every page and if the need be keep a good dictionary close at hand. This way will give the full benefit of grasping the entire content and exercise will be educational too.
In todayís occupationally taxing world we don't know how to spare ourselves from wrath of Allah to come. We believe in Islam, deep down we do not want to part with the precious inheritance and have our future generation known as Jack, Jill and Ivy, and yet we donít let a single stone unturned in bringing about the recognitions from the Joneses as 'Educated' 'Modern' and 'One of Us' like labels.
In the modern world we sacrificed lots of precious things, relations, belongings and what not, and now gambling away the rest of our possession we landed with. i.e. 'Imaní
But it is not too late yet - All that needs to be done, is to just put it into practice what your feelings are about your religion. No one in his or her right mind expects you to change and be a hermit over night. First of all weigh the value of life you are achieving for the price you are paying. Then begin with simple practice of Sunnah in your life slowly and steadily. From the beginning of the day to the end there are things which we do which has no meaning and the benefit is doubtful, the methods applied by todayís being and the methods of Prophetic way are poles apart. Ultimate result is, even after timely gains of todayís methods, despair and deprivation.